Appetizers!! No party is complete without appetizers. And honestly who on this earth doesn't love them. Here is a collection of 31+ easy appetizers for any party or get together. These are vegetarian/ vegan appetizers
These are finger foods and served before the main course. Well, these appetizers are perfect to serve in any of your house gatherings or any cocktail parties. Everyone is going to love these delicious party-perfect appetizers.
Some of these party appetizers are cheesy and some are purely vegan appetizers. If you are purely vegan, check out my list of 40+ vegan appetizers also.
And the good part is that these are really easy to make recipes. Even you can prepare them well in advance and refrigerate for future requirement. Yes, these are make-ahead vegetarian appetizers.
These are quick to make and doesn't require more preparation. No fancy items are required in fact. These are prepared with everyday groceries and vegetables.
Also, these appetizers pair up well with any sauces and dips. I make spicy green coriander dip, or simple cilantro dip & sweet and spicy Thai red sauce to compliment the appetizers.
31 Easy & Quick Veg Party Appetizers
Find out some yummy and delicious appetizers list you can make easily at home with little effort only. Also, these are vegetarian and vegan appetizers.
Potato lollipop is one of the easiest and cleanest vegetarian party appetizers you will come across. This is really really simple but at the same time, it tastes great. This is crunchy outside but melt-in-mouth from inside. Add herbs and seasonings and cheese to make it cheesy and flavorful. Kids will love this yummy cheesy lollipop.
Veg seekh kabab is a healthier snack or appetizer. This is a vegan appetizer. To make this kabab, we have added lots of veggies to the dish. This is again an easy and quick appetizer that you will love to make. serve with cilantro dip or any sauce.
This crispy corn chaat is made in BBQ Nation Style. This is also easy but you have to be careful while frying corn kernels. Then it's quick and takes hardly 10 minutes to make this. This is a vegan appetizer that is party perfect. I love this for my cocktail parties especially.
Corn kabab is an easy and quick appetizer made with sweet corn. This can be shaped into patty also. These are perfect quick appetizers for any party. You can make them ahead and grill, bake or shallow fry them when required.
Paneer corn seekh kabab is one of my favorite appetizer. This has twist of paneer along with sweet corns. This paneer corn kabab is also one quick party appetizer. You can make either kabab or patty of the same. Serve them with coriander mint chutney for best taste. Or stuff the patty into burger buns and make a delicious healthy breakfast for your kid. Or make small balls or lollipops for them. This is really versatile.
As the name says this one is green in color as it's made with green vegetables. The basic ingredients are green spinach leaves and green peas. For binding potatoes are also used. If you don't want more greens then increase the number of potatoes in the recipe. It tastes mouth-watering. One of the easiest party appetizer recipes. read my best vegetarian spinach recipes collection here.
Veg Shammi Kabab is a protein rich appetizer that is made with chickpeas. These are so easy and quick to make that any naive can make this kabab easily. It's a vegetarian kabab recipe perfect for party, teatime or in kids tiffin box also. You can use these kabab as patty and make delicious and healthy burger for your kids.
When we are talking about high protein food in vegetarians, soybean stands first. This is rich in protein and fiber and hence one of the good food. I make these healthy soya chunks cutlet often for kids tiffin box. I make burgers with these cutlets also for my kid. Extremely easy to make and healthy finger food. Add lots of veggies to make it even healthier.
This hara bhara kabab is stuffed with paneer burji or crumbled paneer. Paneer stuffing enhanced the taste of plain hara bhara kabab. At the same time this healthy appetizer has got another punch of protein from paneer. So another great finger food for kids.
Falafel is made with chickpeas. This is one of the best replacement for meat balls. This is vegan, gluten free and a protein rich appetizer. Originally this was a street food in middle eastern countries. But this is a variation to the meat falafel. And chickpeas is the best replacement to that. This is also an easy and make ahead party appetizer.
Indian style aloo chat is another quick snack option. This is an easy snack made with fried potatoes and peas. These are again mixed with green chutney or dip and sweet chutney. Garnish with coriander leaves and sev bhujia. Though sounds simple the tangy, sweet and sour , spicy street style aloo chat is an excellent snack option and an party appetizer. If you are planing to keep it in your menuYou can prepare the sauces well in advance and assemble directly and serve.
Tater tots are our Indian potato bites which are crispy and quick to make. This is one of the easiest party appetizers I have made till now. Include this in your party menu. These tots are kid's favorite also. For toddlers another good finger food option. Reduce or eliminate chili flakes and add veggies if you are making them for kids.
Potato latkes tastes best when served hot. Thse are small potato pancakes that have crunchy sides with little soft center. Make thin cakes to get crispy latkes. This is vegan potato latkes. For binding, flour is used in this recipe.
Vegan broccoli tots are nice healthier twist to classic tater tots. This is another healthier way to induce healthy food habit in kids and toddlers. Blanched and mashed broccoli is added with mashed potatoes. Add nutritional yeasts or bread crumbs. You can either shallow fry or even bake or grill it.
Chinese fritters are easy and quick vegan appetizers for your next party. Extremely delicious and simple fritters made with indo chinese sauces give this a unique flavour. Make them for your next party.
Spinach cheese balls are one of the vegetarian keto appetizers. These are loaded with the nutrition of spinach and then stuffed cheese cubes. These spinach cheese balls are easy and quick party appetizers.
Italian croquettes are those cheesy party appetizers that has stolen my heart always. It's cheesy and soft inside. These croquettes are tasty but it takes only few minutes to make these cheesy snack for party or get together. This cheesy snack is again another kids favorite finger food. This is one of the best among all party appetizers.
These cheese balls are almost similar to croquettes apart from few ingredients. These soft cheese balls are perfect for kids and toddlers also. This is an easy and quick cheesy party appetizer. Add lots of veggies to make it healthier option.
Pinwheel samosa is a twist to authentic samosa recipe. The mixture remains same but only difference is giving it a pinwheel shape. This is easier option also. Takes little time and delicious with taste of samosa. Crispy outside with soft spiced potato filling makes it perfect for any party or get together.
You can make these crispy potato cakes or Indian aloo tikki for the party. These are quick, easy, and make-ahead appetizers that are vegan too.
Cheesy onion fritters are again another cheesy twist to classic onion fritters. This tastes delicious when we add that extra cheese to regular fritters. These are perfect party appetizers. Serve them hot for the best melting cheesy texture in bites.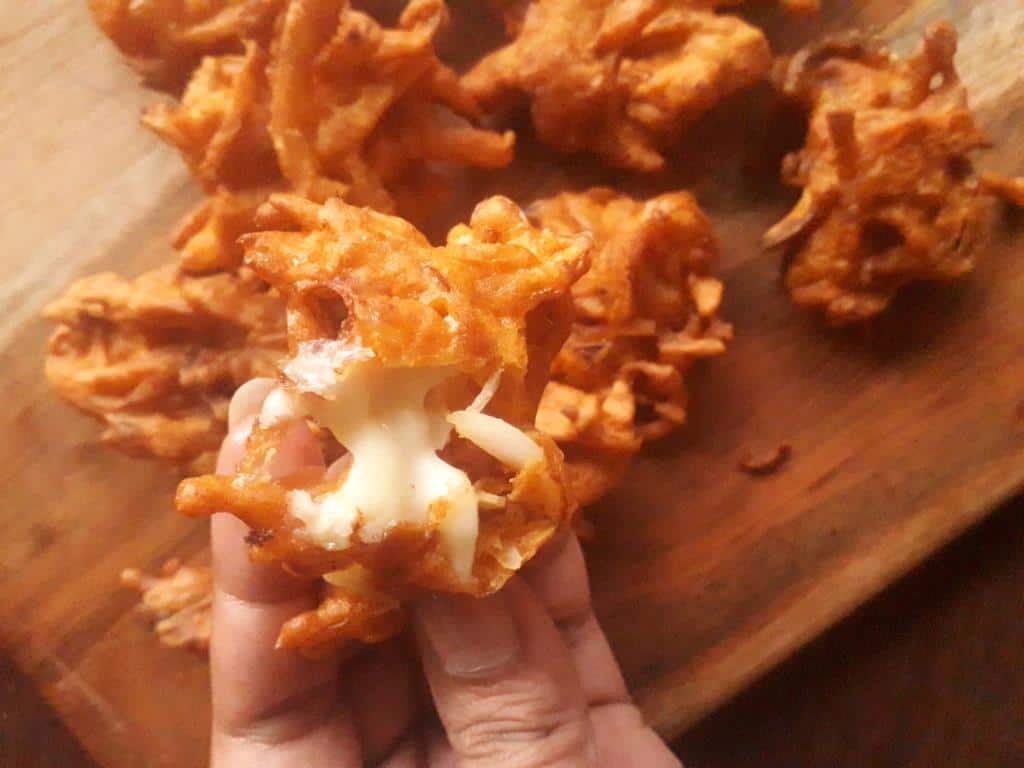 Veg arancini are basically crispy and cheesy rice balls made from risotto rice. This is crispy crunchy outside and soft cheesy inside. However my veg arancini has again some twist to classic arancini. It has cooked lentils along with some spices, onions chillies added. This was even better than regular arancini. You can make it with only rice also if you are making this fresh (without using leftovers).
Chilli paneer is one of my favorite Chinese dishes. This is a quick, easy appetizer that everyone loves. Make it dry for appetizers and snacks or otherwise mix it with chinese gravy and serve a side with fried rice or noodles. This is my all time favorite dish that's prepared with ease within 15 - 20 minutes. So a quick party appetizer.
Cauliflower Manchurian is a quick cauliflower Indo-Chinese dish. This is an easy and quick appetizer. Cauliflower is coated with the flour mixture and deep-fried. Then saute this with respective sauces to make this manchurian. You can also add this to gravy for the main course as well.
Veg manchurian balls are made with lots of vegetables and deep fried. Again after frying these are sauteed with Indo chinese sauces to make final dry manchurian balls. These tastes great as appetizers also. Otherwise you can add them to chinese sauce and noodles and rice preparation.
Chilli baby corn is another Indo-Chinese party appetizer. This is a quick recipe that takes less than 30 minutes. Serve them with hakka noodles or as an appetizers. These baby corns are delicious and quick party appetizers.
I must say this is a healthy snack for your parties. Quick salad is made with minimum ingredients. If you want you can add more of boiled corn kernels to this. I love this light and healthy snack or salad to accompany other appetizers. Add more bell peppers and corns.
Cabbage is my favorite vegetable. these fritters are normally crispy and crunchy. Perfect for tea time snack for those rainy days. This is another snack for diabetic patients also. Include these fritters in your party appetizers menu.
Onion fritters are crispy crunchy and a little soft also. These can be made fluffy and crispy in both ways. This one I have made crispy onion fritters. Perfect tea time snack. Tastes best when served hot. I love these fritters for my cocktail parties especially.
Corn fritters are made with sweet corn kernels. These are boiled and mixed with flour. You can also pulse the kernels for once to avoid bursting in hot oil. Add necessary spices and flour.
So here is my collection of best party appetizers that are vegetarian and/ or vegan.
31 Quick and Easy Veg Party Appetizers
colection of 31 Quick and Easy Veg Party Appetizers
Instructions
refer indivisual links for full recipe
If you like my recipes and want to stay updated then subscribe via email to my blog. Also stay connected on social media. Here I would request you to like and share my facebook page @mydaintykitchen, Follow me on twitter @mydaintykitchen & instagram @mydaintykitchen.
PIN IT FOR LATER