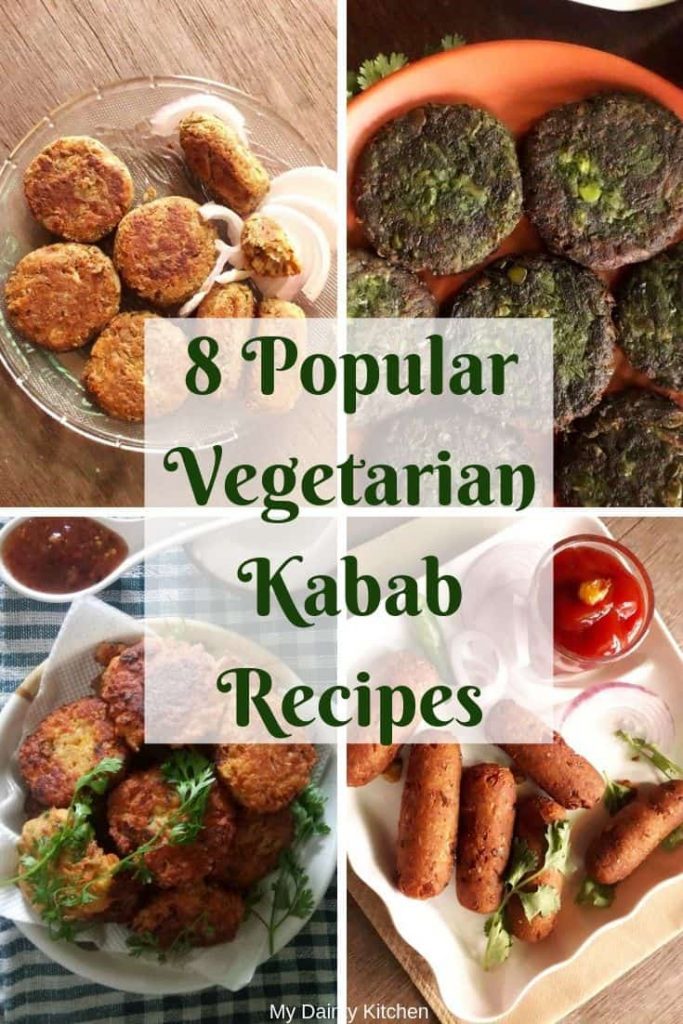 8 Vegetarian Kabab Recipes
Kabab or kebabs are popular and most loved Indian snack or appetizer for any party or get-togethers. Here is a collection of 8 quick and easy kabab recipes for all vegetarian friends.
Kabab or kebabs are originally made with meat. These veg kabab recipes are a great vegetarian alternative to nonvegetarian meat kababs. These are made with vegetables/ paneer/ pulses.
But these kababs make an equally great appetizer. Serve these kababs with mint chutney or cilantro curd dip. Also, try Thai sweet chili dip for them. You will love the combination.
Well, these recipes are kids friendly and protein-packed dishes which keeps us full for longer. Also, you can make burgers with these kabab patties. Perfect for kid's tiffin box as well. In fact, in this way, we can make them eat such food that they would not eat normally.
What is kebab?
Originally Kebabs are cooked meat dishes. It has originated in Middle Eastern Countries. But these are equally popular around the world. Internationally kabab is known as Shish Kebab or Shashlik
Authentic kabab recipes
Generally, kababs are minced meat shaped on a skewer and are cooked/ grilled over the fire till cooked. Some times these are called as seekh kabab.
List of Delectable Vegetarian Kabab Recipes
Vegetable seekh kabab is one of the healthiest appetizers. It's packed with nutritious vegetables. This kabab is vegan and gluten-free. veg seekh kabab is also easy to prepare and you can make ahead of this kabab for parties and get-togethers. Also, you may shape these as Tikki and patties and stuff between slices of bread to make a healthy burger for kids tiffin box.
Paneer corn seekh kabab is a protein-rich and healthy Indian appetizer that is made with paneer and sweet corn kernels. This is an excellent and delectable party appetizer. You can also make a burger with a patty of this kabab mixture. Also since we shallow fry or pan fry, these kababs are extremely healthy for our kids.
This one is my all-time favorite kabab. I loved the green color of these kababs. So I have increased portion of spinach leaves more than potatoes. But if you are making for kids you can add in more potatoes. To make it rich and exciting add dry fruits to this.
Shami Kabab or Shammi kabab is generally a nonveg kabab that is made with minced meat. But here is our vegetarian and vegan version. In this Shammi kabab kala chana is the main ingredient. This is also an easy and quick recipe. But you need to soak chana for 8 hours as these pulses are hard and require pre-preparation.
Soya chunks kabab is another protein-packed appetizer and Indian kabab recipe. As the name says it all, the hero ingredient is Soya granules (Soya Vadi). Another quick kabab recipe that doesn't require any pre-preparation like soaking for long. It can be prepared in less than 30 minutes.
Crispy and crunchy corn kabab is perfect for last-minute preparation for parties and get-togethers. Super easy to make. Serve these with green mint-coriander chutney or plain tomato ketchup. You just need lots of sweet corn to make this kabab. This also you can make tikki or patty and make burgers for kids tiffin box.
Above I have mentioned hara bhara kabab. Here I have stuffed crumbled paneer into the tikki. This made the kababs even more delectable and scrumptious. The tikki or kabab will just melt in your mouth with perfectly spiced soft cottage cheese stuffing. Perfect appetizer for parties.
This is a little different but equally delicious. I love this because this used to be my Dad's favorite. So this used to be a common dish I have seen since childhood. Well, we can also use this kabab or any other kabab with our gravy making this a complete dish and curry with gravy.
This coconut kabab I have tried with sweet & chili sauce. And trust me it blends so well with sweet & spicy sauce I can't think of any other combination for this kabab at least.
And there are many more kababs which are still in my to-do list for my blog. I will keep on updating the list with newer ones. Keep reading and making delicious Indian kababs at home parties.
If you like my recipes and want to stay updated then subscribe via email to my blog. Also, stay connected on social media. Here I would request you to like and share my facebook page @mydaintykitchen, Follow me on twitter @mydaintykitchen & Instagram @mydaintykitchen.
PIN IT FOR LATER